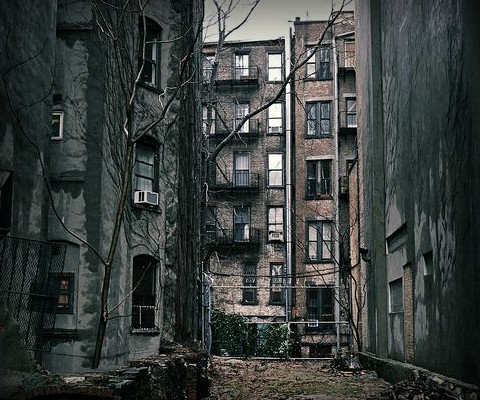 Chicago, the once loud, hive of a city, now decrepit, near silent, and dead. Six years after the outbreak, and almost everyone was gone.

But it's rumored that in the heart of the city, where everything began, laid a few select places that were left untouched by living people; drugstores, hospitals, pharmacies - all mostly intact. The few people left don't dare go to the center of the city, though. Just as it is filled with supplies, it is just as filled with the undead.

To go there and be so ridiculously outnumbered would be a death sentence.

But to succeed.... That would rival the great treasures of a thousand kings.



---


In the outskirts, Tracy stared at the skyline - painted in pink in the light of dawn. "This isn't going to work, Trace..." Wendell whispered, as Kalie and Cody were still sleeping. She didn't look back at his look of disapproval.

"It has to. We have to get her some medicine." She dared not think of failure. A breath steadied her thoughts; supplies in numerous amounts, enough to keep them happy for months, and a happy, healthy girl.

"Let me rephrase myself," She rolled her eyes as she heard her mother gripe through him, "You're not going. If anything, I should go in there."

"You're stronger than I am, you can protect them better than I can. I'm faster than you-" He shushed her as her tone rose. Her face scrunched up, and she continued quieter than before. "I am. I can get there and back quicker than you could."

"Just wait, Tracy." She turned to see his hands up. "Let's think of a better plan, first. If we can't, we'll go with your idea, but I don't like that plan."

She pondered the agreement for a while. Hers was the fastest solution. It could, and will, work. The look on his face, however, told her he wouldn't budge this time. Again, she saw their mother in him, and the acidic feeling of guilt bubbled up. "Fine." the word got spat through clenched teeth. Every second they wasted thinking was a second they could be using to help their baby sister.

As he turned away with a nod, an idea struck her. She wouldn't waste more time than she had to. He could sit and wait around, but she couldn't. She won't.



---


The cover of darkness let her slip out of their makeshift camp and out of the crumbling apartment building, and once more she looked towards the skyline. Where others saw despair and death, she looked upon the city in hope.

Her feet skidded down the gravel on the hill, and she headed towards Chicago.